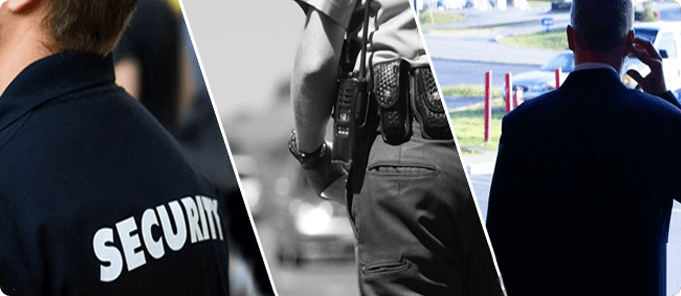 Increasingly, organisations and events are relying on security personnel to safeguard them from potential threats and assistance in the event of an emergency. A security firm is a must-have whether you own or operate a business, whether it's a retail store, a hotel, an office complex, a warehouse, or an event. By preventing dangers and resolving concerns, a security officer's job is to protect people's lives and property. To succeed at their work, they must be highly motivated. There is a lot of competition for the best security guards. The job of security personnel could theoretically be automated thanks to advances in technology and superior surveillance equipment, but this is not the case. Human interaction remains critical.
In addition to prior security experience, there are specific personal characteristics that we are searching for in a potential candidate. These are the qualities that each security personnel must have.
Qualities of good security personnel.
Honesty and integrity
It's hard to develop honesty and integrity, hence employers value them. Security personnel are in charge of safeguarding high-value assets on their own, with no oversight from a permanent employer. As a result, they play an important role in ensuring the safety of the building or event in question. You can expect them to uphold their end of the bargain.
A person's honesty and integrity can be difficult to verify when hiring them for a position. After a long time working with a guard, these attributes become apparent. Security agencies, on the other hand, conduct extensive background investigations before hiring someone.
Observation skills
When working for a firm or event, security personnel spend a considerable portion of their day keeping an eye out for anything unusual. They must remain awake and concentrated at all times. They can quickly identify and respond to any anomalies in their surroundings because of their excellent observation abilities. Changes in the immediate environment must be assessed to see if they are substantial enough to warrant the involvement of upper-level management or the public sector. The response time of security personnel must be lightning fast. A skilled security guard must also pay attention to the tiniest details and be on the lookout for unsafe or suspicious behaviour.
Hard-working and flexible
The job of a security officer is physically and emotionally demanding. It's difficult and demands a wide range of abilities. To be effective, security guards must be adaptable and willing to take on various responsibilities. Then, when on the work, they must be competent to do a wide range of duties. Each one of them is responsible for learning a variety of skills, including patrolling, door supervision, using surveillance equipment, and reporting back to higher-ups. A competent security guard should be dedicated to his job and driven to continually improve his abilities.
Empathy and Communication skills
Every part of a security personnel's job relies heavily on effective verbal and written communication. For example, if a team is formed, the guards must be able to communicate with each other and with emergency services, as well as with their co-workers and managers. Security people must always treat others with courtesy and compassion in any situation where they come into contact with them. A person's ability to communicate with others and comprehend their viewpoints can be a key to solving even the most complex problems and preventing numerous risks. In most circumstances, composure and politeness are the most efficient ways to resolve conflicts.
It's not just in times of crisis that good communication skills come in handy. Security personnel is generally the first person a customer or a business partner sees when they arrive at a business location. They must also be courteous, professional, and willing to assist or simply provide directions.
Approach situations with an open mind
Although security officers aren't trained to anticipate the worst-case scenario, their primary responsibility is to diffuse potentially dangerous situations. Most security companies are looking for officers who can remain calm and cool, no matter what the situation. The likelihood of confrontation is substantially higher when they work in a crowded environment.
Security personnel has to deal with a wide range of people daily. Some of them may try to start a debate or disrespect them to get them to talk. Regardless of the circumstances, a guard is supposed to have a friendly demeanour at all times. Under pressure, they must be able to operate well while putting their safety first.
Leadership and teamwork skills
Because security personnel frequently operate in groups, they must have a strong sense of unity. The best outcomes are achieved when people work together effectively, and this has a direct effect on safety standards. Working with emergency services, such as firefighters, police officers, and doctors, security guards need this as well.
Another feature of good security personnel is their ability to lead others. Teamwork is more important than most people realize when it comes to leadership. To be sure, they work well together than any group, no matter how little, needs a strong leader to guide them through the process. Crowd control and other emergencies necessitate the ability for security guards to act as a leader and guide people through potentially hazardous situations.
Physically fit
Everyone can be physically fit; all it takes is consistent effort. Because of the numerous physical demands of the job, a security officer must be in excellent physical condition. Patrolling a big region, staying up all night, or pursuing a thief are all examples of this type of work. Guards' ability to respond quickly and concentrate well is enhanced when they are in good health.
To protect themselves and others in the event of an emergency, security agents must engage in regular physical activity and maintain a healthy diet.
Conclusion
To be a good security officer, one must have the proper training and experience. To do their job as a security operative, there are some attributes they must possess. Integrity and observational abilities are among them. For security guards to properly deal with concerns as well as to avert threats, communication skills, empathy, and approaching situations with an open mind are required.